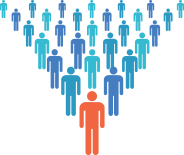 Top IT Solution Providers
Our network gives you access to the industry's best people and resources—the cream of the crop in the IT industry. Trust X Alliance brings you an array of talent, expertise and experience in a variety of industry segments and technology areas.
SPECIALIZED TRAINING
Our certified professionals have advanced expertise in cloud, managed services, networking, security, storage and more. They have the technical qualifications and experience to tackle even your most complex technical issues, from data center migration to SIEM implementation.
STRICT VERIFICATION PROCESS
You'll work exclusively with technology providers that meet Trust X Alliance's rigorous standards for technical know-how and customer service. The vetting process has multiple criteria, including account evaluation, headquarters review, member recommendations and a code of ethics agreement.
STRONG PARTNERSHIPS
You'll get the advantage of the latest IT thinking, best practices and the most advanced products and solutions—from the leading manufacturers that develop them. That way, you can address today's IT challenges with an eye to the future.